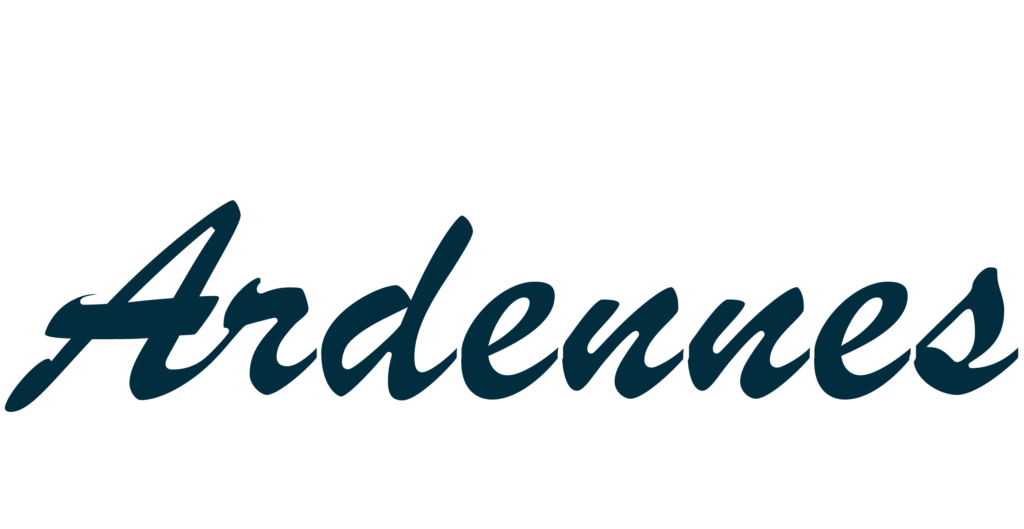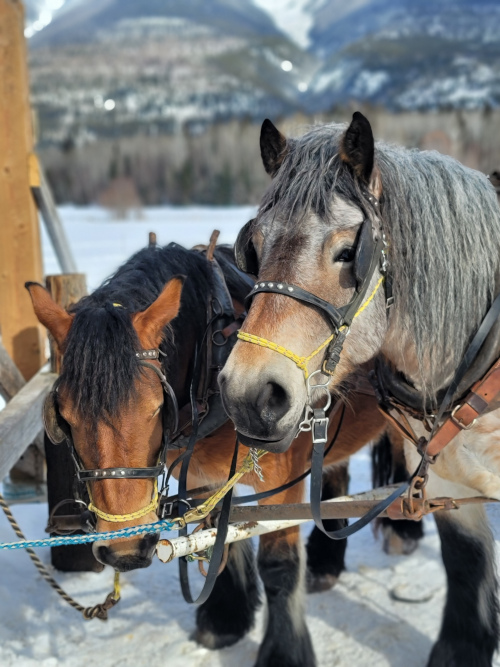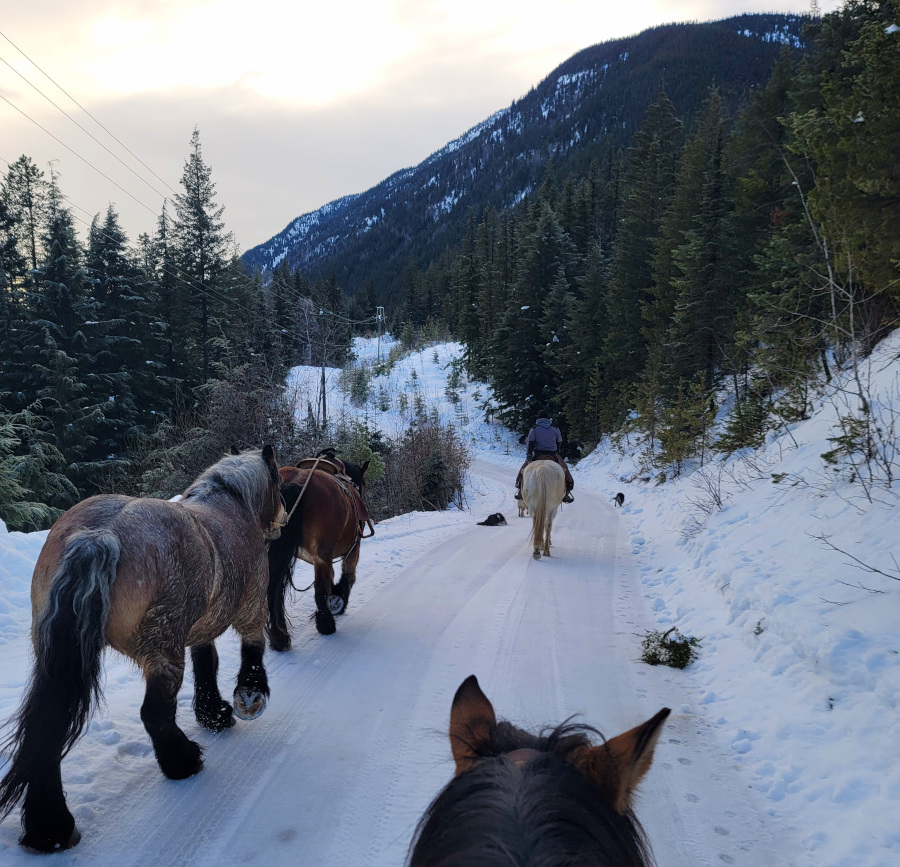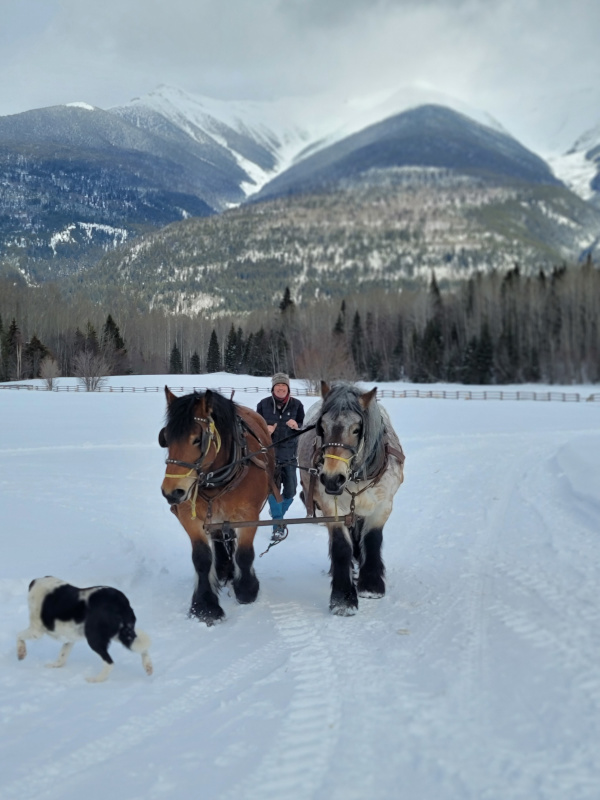 I have found draft horses fascinating since I was a boy and specifically the Ardennes breed. The interest stuck with me though I was not able to own one of them. It has always been a dream of mine to work with draft horses and run farm chores using a team.
We were the first people in North America to import dairy sheep genetics which gave us experience dealing with importing, permits, and regulations from Europe. A few years ago, out of curiosity, I looked into importing my childhood favourite, Ardennes. I began by contacting Ardenne associations in France, Belgium, and Luxemburg. No one replied.
After tons of research I finally was able to contact a reputable Ardennes breeder. We connected right away and he was enthusiastic about my project, we still keep in touch on a weekly basis. After more research and planning we were able to pick up our 3 Ardenne foals from the Calgary airport in the fall of 2019.
We couldn't be happier with how these horses have matured and we can't wait to meet the first Canadian newborns this spring!
Born: April 26 2019
Colour: Bay Roan
His dad is a bay coloured horse, but 3 of his grandparents are roan.
Felix is our easy going, lovable big teddy bear.
He hasn't finished growing and currently stands at about 15.2. Lately his back end shot up about 2" higher than his shoulder.
We had him with him on the long reins, under a pack, and under a saddle several times. He's a very keen learner.
He should have 3 offspring this spring.
For information in using Felix as a stud contact Hani at 250-569-0333 or email us at ardennescanada@gmail.com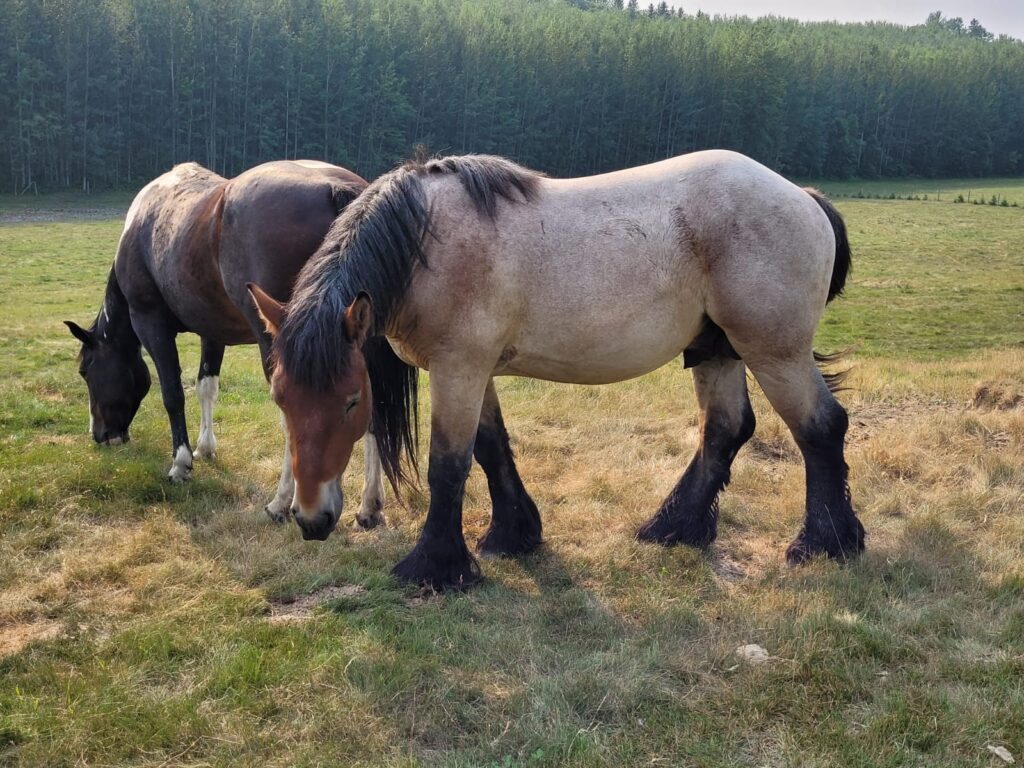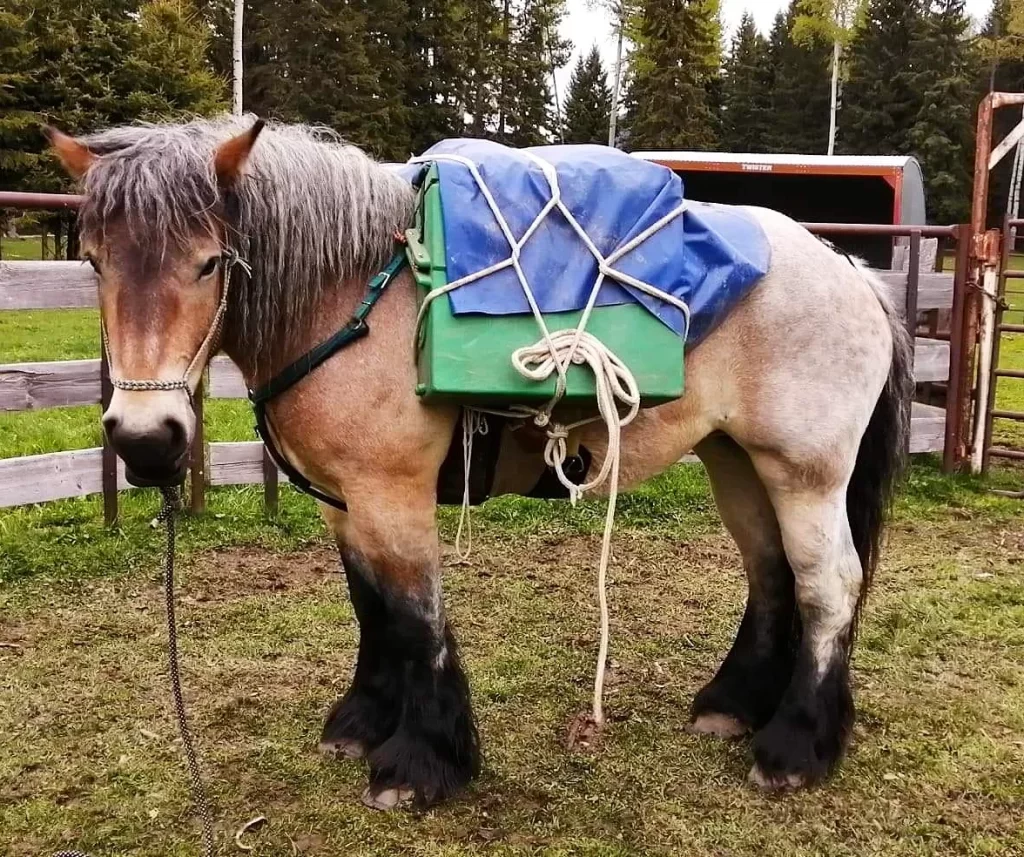 Born: May 27 2019
Colour: Bay Roan
Duchesse is the tallest of the 3 and close to 16 hands at 3 ¾ years old.
When we picked her up at the airport in the fall of 2019 she was the shyest. She has grown more confident but is still the underdog, even though she outweighs everyone else.
It is amazing how much ground you can cover with her, harnessed in front of a sleigh or log. She moves! And she enjoys pulling, she is always calm and willing.
Being a roan, her coat changes from really white in spring to bay in winter, just like Felix.
We are looking forward to her foal this spring.
Born: May 21 2019
Colour: Bay
Vanda is the smallest of the 3 and at 3 ¾ years just over 15hh, she has excellent hooves.
She has a very willing and calm personality. She loves to work, following you around after a training session.
She is the lead horse out of the 3 and often the favourite among our horse loving friends.
We are looking forward to her foal from Felix this May.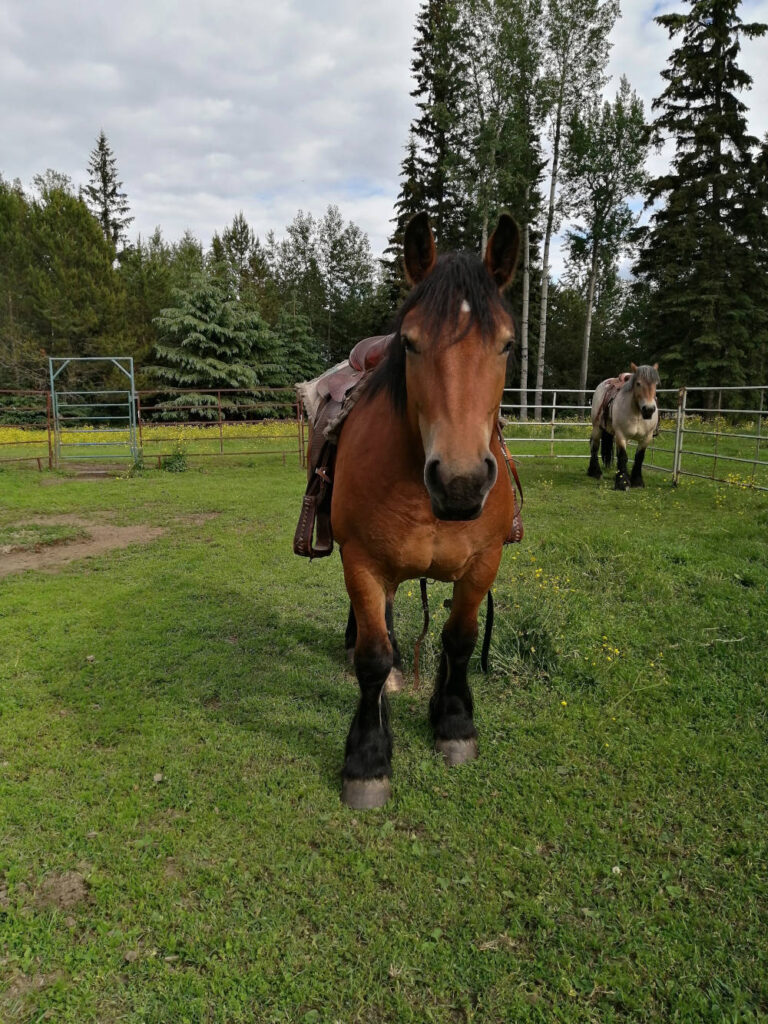 LUCILLE
Born: May 11 2023
Sex: Filly
Dam: Duchesse
Sire: Felix
Lucille was born in the early am of My 11 and is a playful, energetic filly. She loves attention and bonded instantly with her human family.
She has beautiful strong legs and the Ardennes short back. She was born with the Ardennes easy going personality and friendly demeanor, just like her mother.
We are looking forward to watching her grow and thrive here this summer.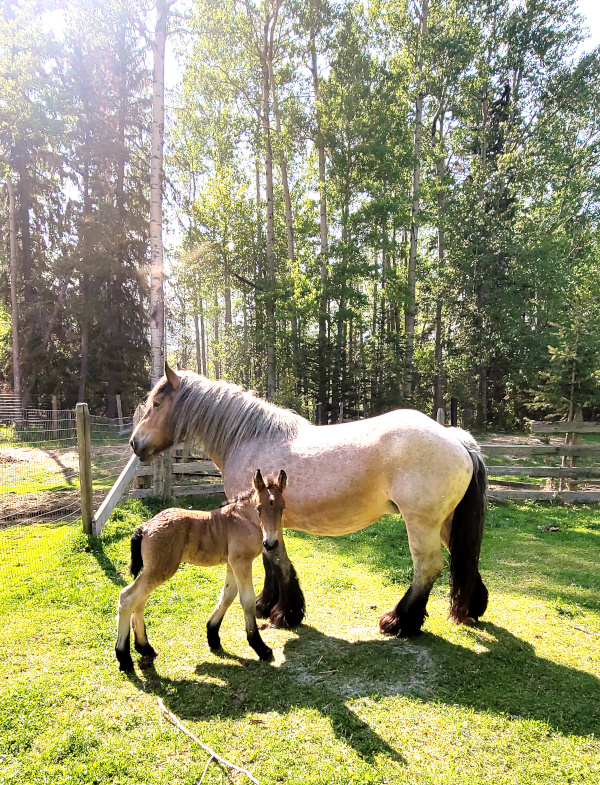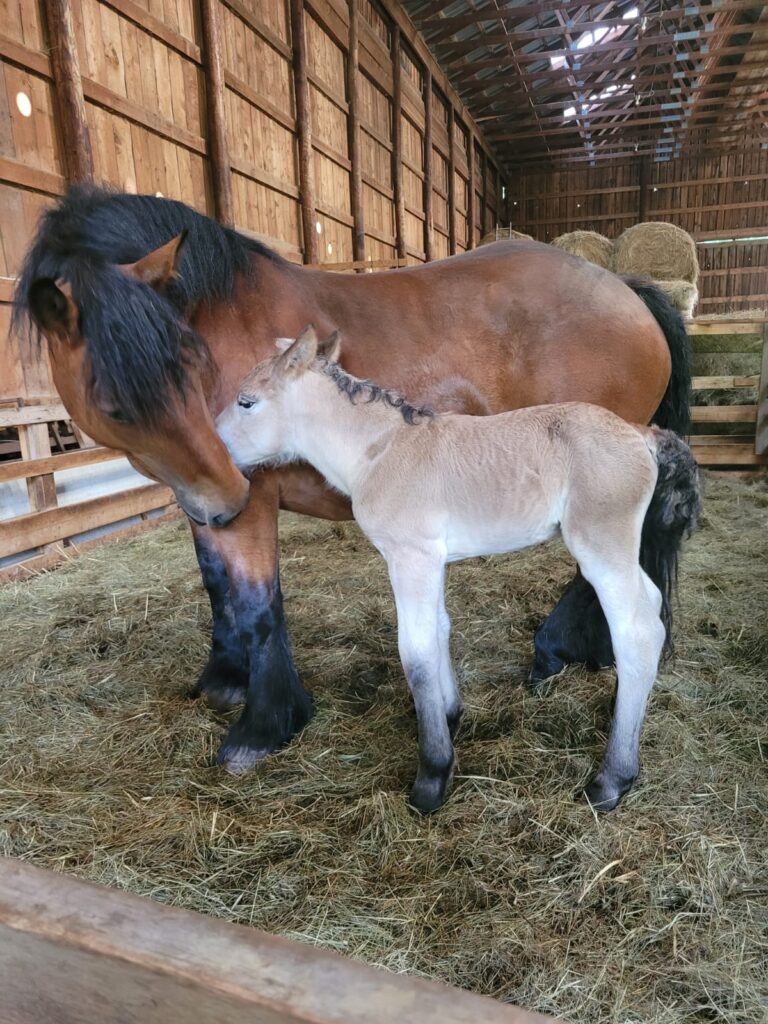 LUDWIG
Born: May 26 2023
Sex: Colt
Dam: Vanda
Sire: Felix
Ludwig was born in the late evening of My 26. As I write this now he is only a day old. Momma and baby are doing great. He is healthy, sturdy and showing great Ardenne conformation. Stay tuned for more information as we get to know baby Ludwig.

We are looking forward to watching him grow and thrive here this summer.
Feel Free to Contact us for
Cross breeding your mares using our Felix
Our Ardennes foals
Importing Ardennes from excellent backgrounds
Participating in horse logging agility
Ardennes information
Sheep
Border Collies
Livestock Guardian Dogs