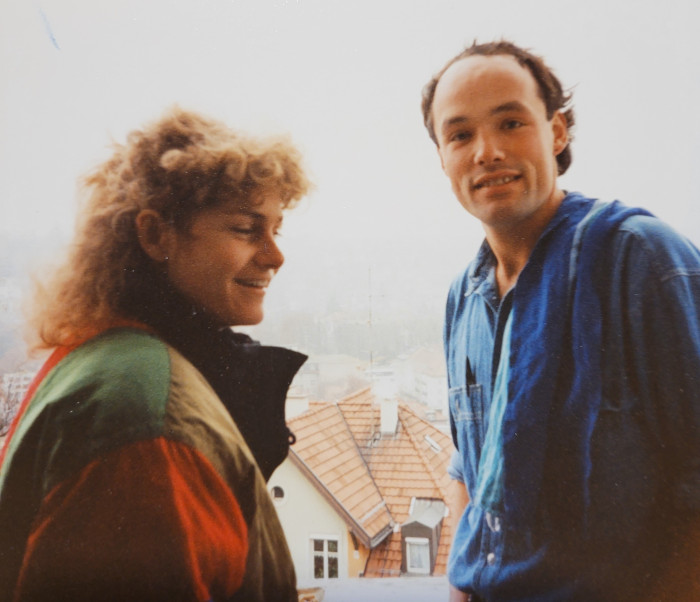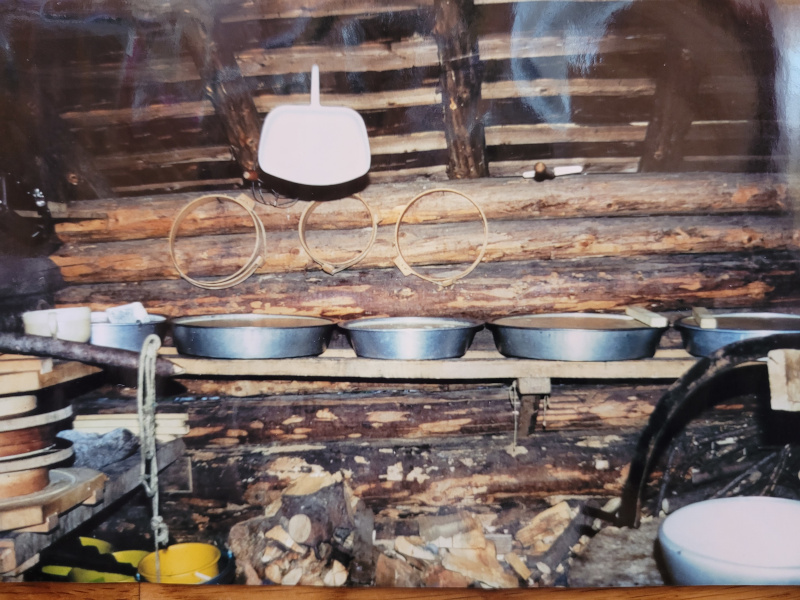 As a youth I used to help out (voluntold) at a farm where I learned from the draft horses how to hold on to them as they dragged logs out of a bush. The horses did their job regardless of my experience, they knew more than myself.
In 1980 I worked for a year near Wales where we used draft horses. I was fascinated by them and took interest in the Ardennes.
Tessa and I met in 1982 while working with dogs. In 1983 we made cheese together in the high Swiss Alps using cow's milk on open fire with copper vats.
From 1984 to 1988 spring I finished agriculture college and a saddle making apprenticeship.
Our 3 children were born in Switzerland.
1984 – Florian
1985 – Jasmin
1986 – Isa


May 10th 1988 we moved to Chase, British Columbia, Canada. We worked on a cattle farm with over 250 head of cattle. We worked with border collies, using experience from Wales and Ireland, and learned to work the cattle on horseback.
We wanted to train our own collies and therefore needed sheep. I went to the ministry of Agriculture to inquire where to purchase dairy sheep, just like we did in Switzerland. No one at the ministry had heard of dairy sheep.
This triggered our interest in bringing sheep dairy to Canada and by 1990 we started to work on importing dairy sheep genetics.
By 1992 we bought our first farm in Chase Creek, 160 acres. It was not big enough for a beef operation, but with the help of our neighbours we built a milking parlour for sheep and a milk processing plant.
There was a huge interest from the US for dairy sheep genetics. We could survive the first few years selling 6 month old ram lambs to the US until our herd was built up enough to produce sufficient milk. We would make 5 kinds of organic sheep milk, cheese, butter, and yogurt. We did everything from importing frozen semen, lambing, milking, processing milk, packaging, labeling, marketing, irrigating fields, and haying.
By the end, we were a certified organic farm processing the milk of our 150 ewes and the milk of up to 650 sheep from local farmers that began milking.
In 2006 a corporation bought our farm and processing plant and we were in a position to start something new.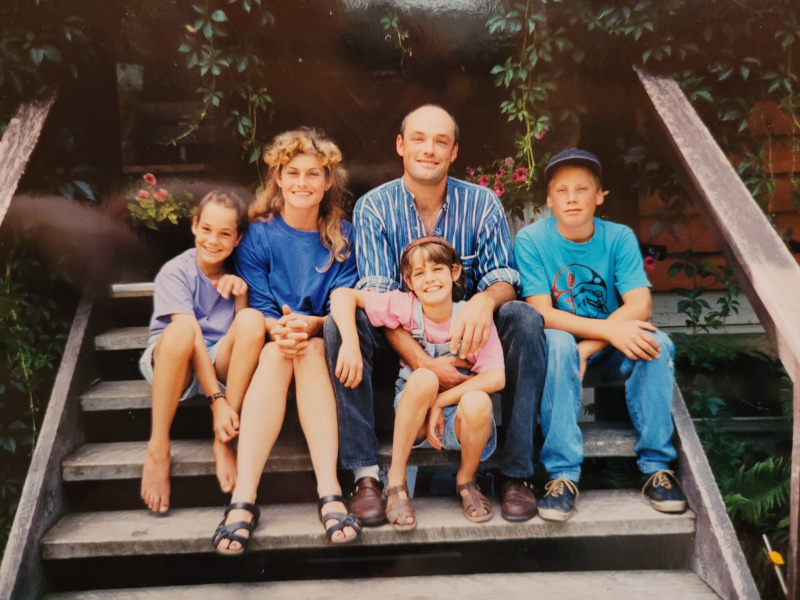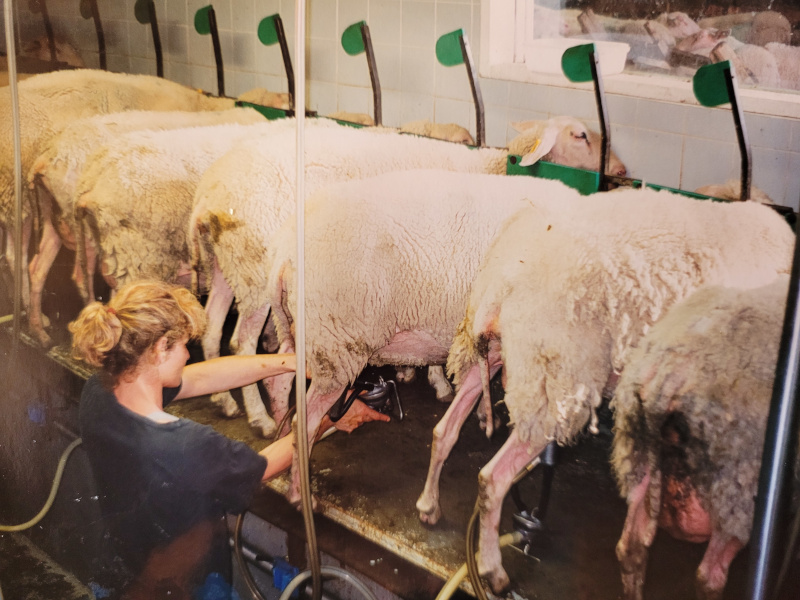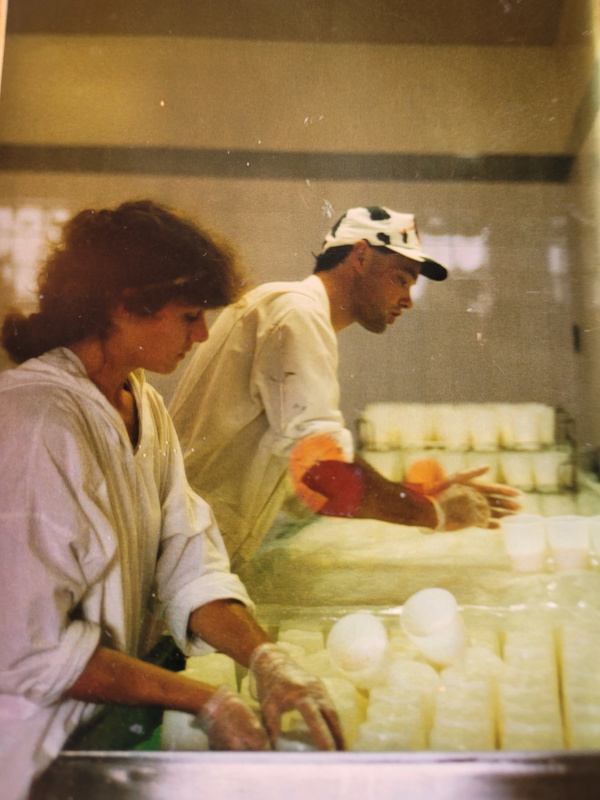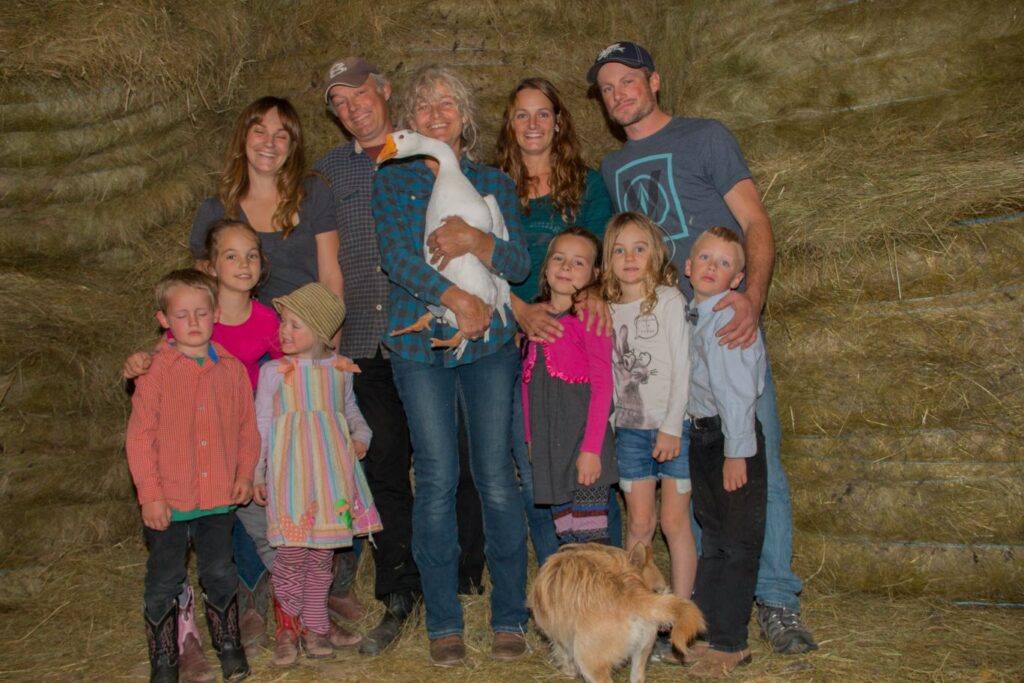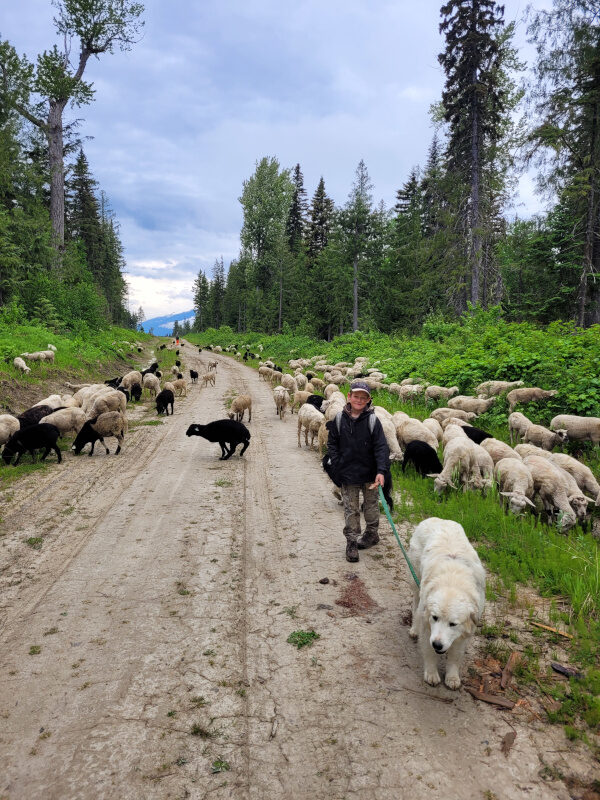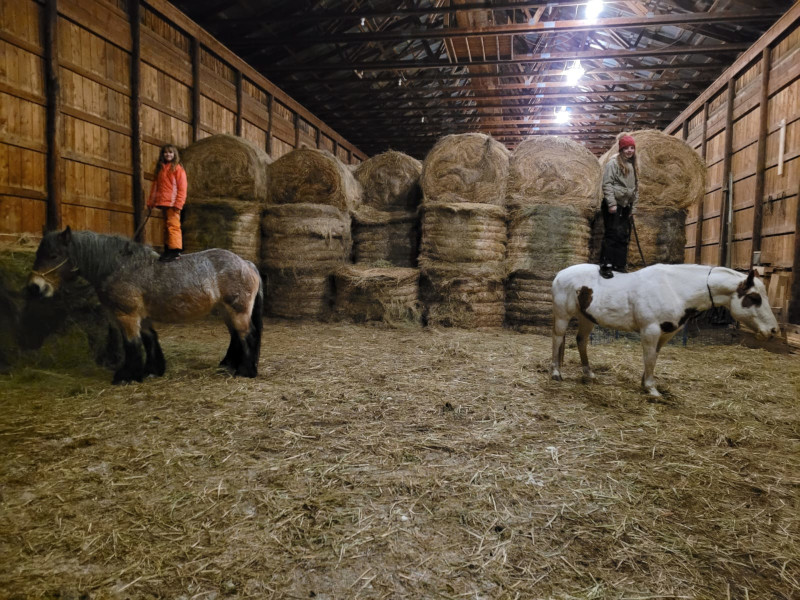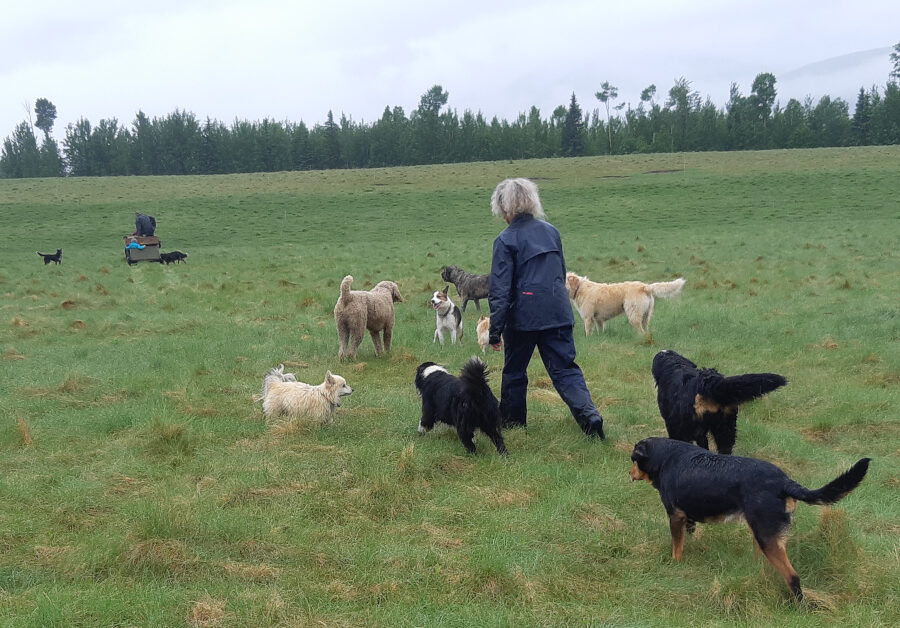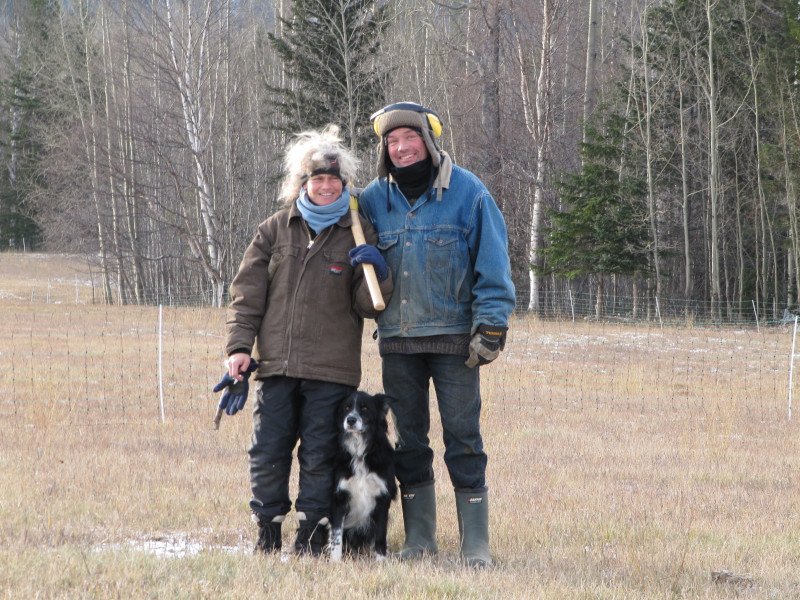 We found our current property of 535 acres in McBride BC. It had not been inhabited in 25 years which gave us the opportunity to rebuild and create our vision. We began building up our sheep and cattle, this time certified organic.
In the winter of 2007 we over produced hay and began feeding a friend's 18 Clydesdales.
Through all these years we raised, trained, and worked border collies. We believe that our livestock are calm and easy to work with due to using the dogs to move them, never chasing them ourselves.
In the fall of 2008 we decided to walk our lambs to a slaughter house in Alexis Creek BC. The 250 km track through BC's interior was fascinating. Our sheep were protected by our livestock guardian dogs which we raised and trained since 1992.
This was also the year our first Grandchild, Ellie, was born. Today we have 8 grandkids.
In 2014 I needed a challenge and learned to shear our own sheep. Our sheep is a cross between Texel and Dorpers. Since we are certified organic we try to raise them on our pasture and hay alone. Our animals are simply grass fed, no grain, and animal welfare approved. Today we sell mostly lambs and some beef. Our sheep produce lean and high quality meat. We use direct marketing to increase our income while keeping our stock numbers down.
Our cattle go back to the cows we calved out in the spring of 1989, after we moved to this beautiful country.
In 2021 my son Florian, my daughter Isa, and myself took our sheep clearcut grazing in the summer around McBride to control weeds or replanted community forest areas. In 2022 we rented more sheep to be more efficient. We ran 1100 head of sheep in the mountains with our guardian dogs and collies. It was very interesting, but also challenging. Great experience and work for the collies, guard dogs and us as well.
In 2017 my friend Zev invited me to go on a 2 week packing trip in the Alberta Willmore Park area, riding 2 horses and packing 2 horses. It was amazing. His horses are mainly Percheron & Percheron crosses. This re-sparked my interest in draft horses and, just for fun, I started to look into Ardennes again. It took a lot of digging and research until I found a breeder in Europe that was enthusiastic in working with me.
Over the next 2 years we organized the permits and import documents to bring over 1 stud colt and 2 fillies, 7 months old.
By the fall of 2019 we were able to pick them up on Canadian soil. It has been an honour and pleasure to rear these beautiful and willing horses. It is said that Julius Cesar mentioned Ardennes as an outstanding, willing, and extremely tough horse breed. Ardennes have influenced other breeds around the world. It is mentioned that the main breed of horses that was able to retreat from Russia with Napoleon were Ardennes. It is one of the oldest draft horse breeds.
What we like about them is that they are 15-16 hands high, not too tall. They are very sturdy and thick boned, well suited to cross breed and get a perfect back country and pack horse.
Best of all is their character. Calm and easy going and willing to learn. It has been an interesting journey to see how keen they took to pulling anything. An old car hood, my old dog sleigh… and how quick they were willing to put effort into it.
We are now expecting the first 2 foals in May 2023. Felix, our stud, is an unbelievably handsome and easy going animal, our big teddy bear.
In the fall 2023 we will be organizing a horse logging agility clinic and competition for all breeds, but we believe that the Ardennes will do extremely well, similar to the Border Collies in the dog agility competitions.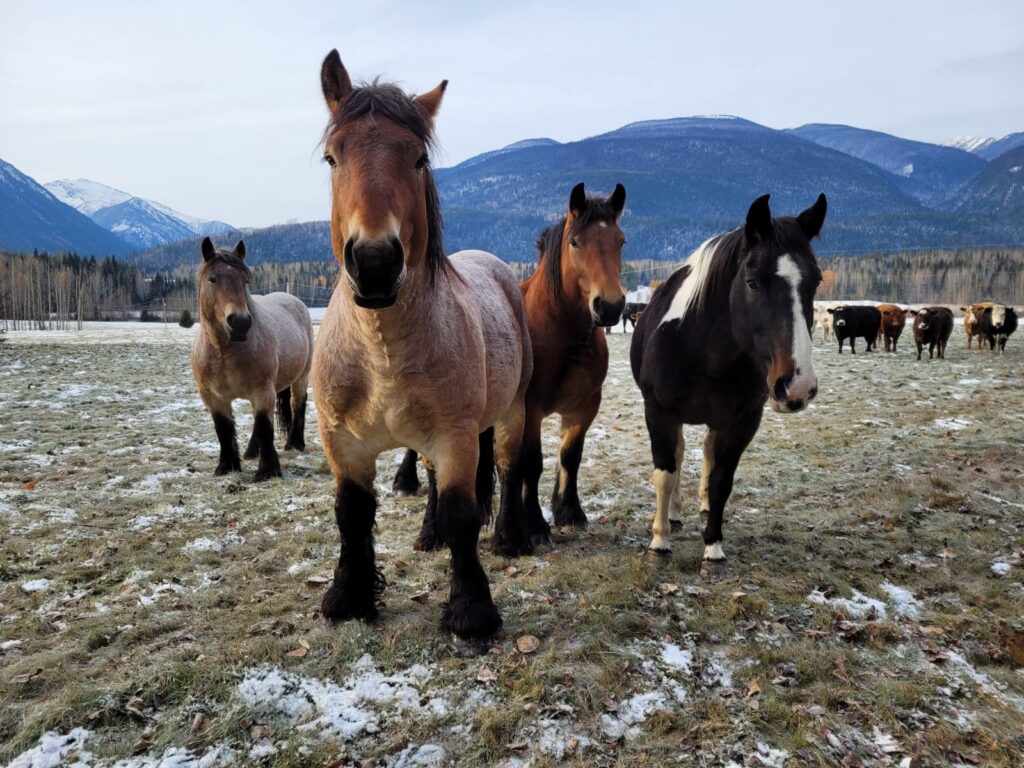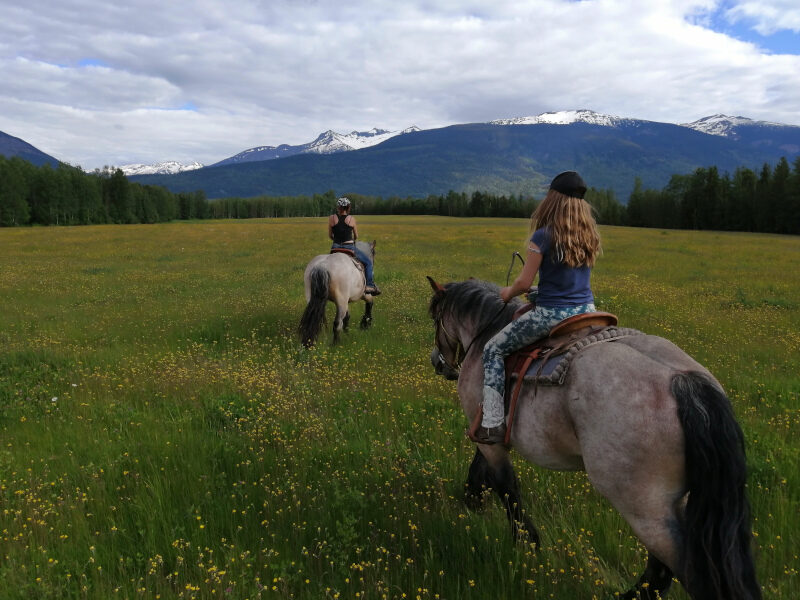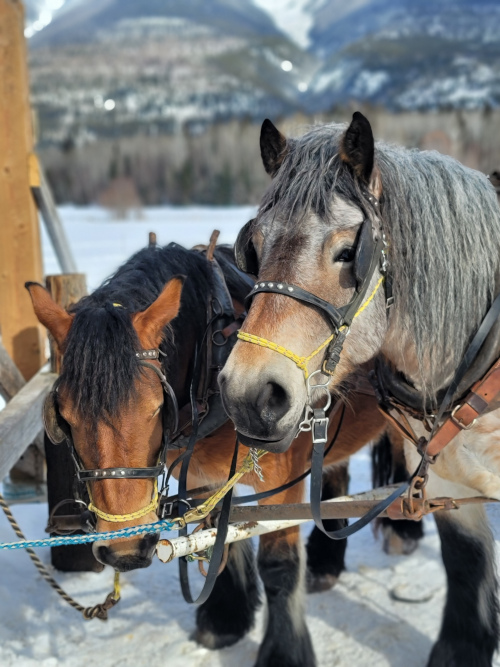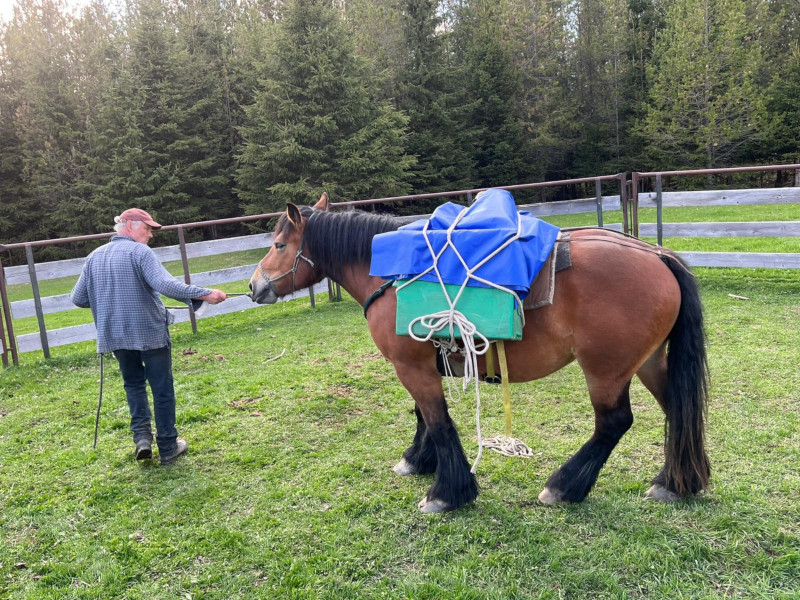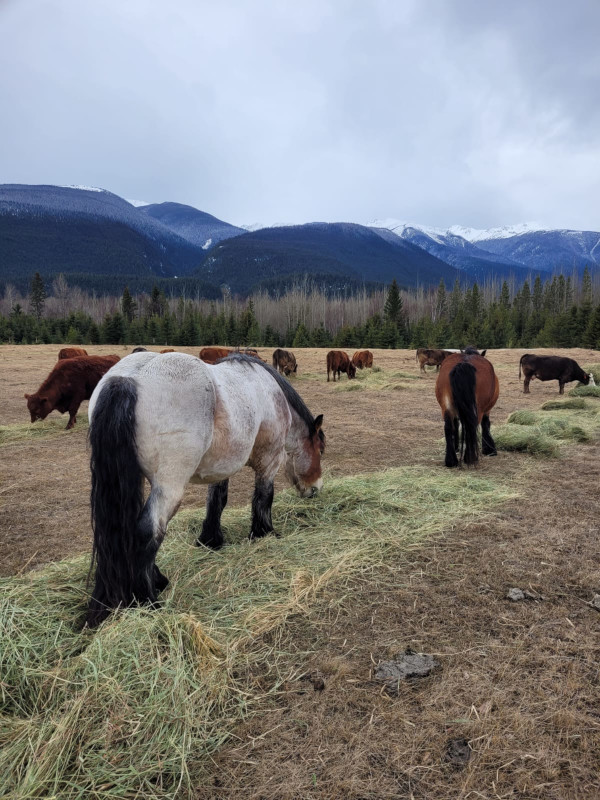 Feel Free to Contact us for
Cross breeding your mares using our Felix
Our Ardennes foals
Importing Ardennes from excellent backgrounds
Participating in horse logging agility
Ardennes information
Sheep
Border Collies
Livestock Guardian Dogs